Mediterranean Chicken
March 11, 2015
by Jennifer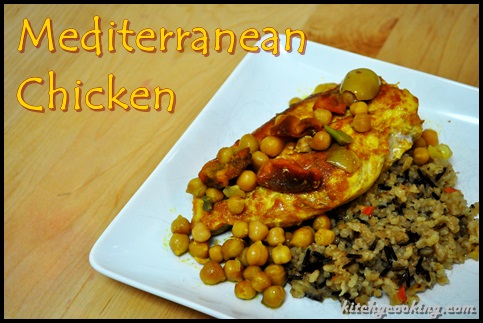 Remember those awesome blackeyed peas I got from Melissa's Produce a few weeks ago? Well, turns out they have a whole line of steamed veggies all cooked and ready to be added to your favorite dishes. So, since I was such a huge fan of the peas, I asked for some of their other veggies to try. They were nice enough to send me some garbanzo beans, beets and artichoke hearts.
I'm a huge fan of garbanzo beans. I add them to my salads, blend them into different flavored hummuses and even cook with them. So, when Melissa's sent me a few boxes, you know I was super excited. Then when I found this chicken recipe in Better Homes and Gardens, that excitement increased to elation. Chicken and garbanzo beans are two of my favorite foods. Put them together with dried apricots and turmeric and you have a dinner that's hearty and delicious.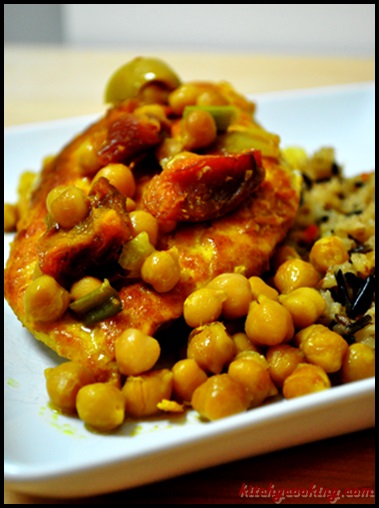 But what makes this meal an ideal weeknight option are the garbanzo beans. Because Melissa's has done all the work for you and already steamed them, all you have to do is slice open the bag and add them to the pan. Since you don't have to soak and drain the beans, it only takes about 30 minutes to make this dinner instead of 24 hours. And with a wild family of boys, not having to take an extra day to soak beans makes this dish a no brainer in my house.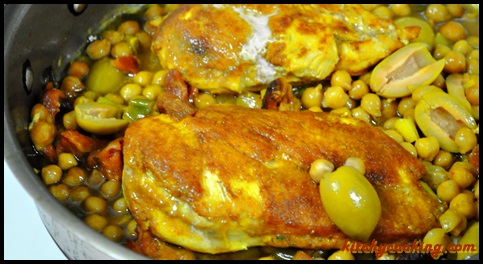 Mediterranean Chicken
Ingredients:
1 orange
2 teaspoons flour
1-1/2 teaspoons turmeric
1/2 teaspoon salt
1/2 teaspoon cumin
1/2 teaspoon coriander
4 boneless, skinless chicken breasts
2 tablespoons olive oil
1 box of Melissa's Steamed garbanzo beans
4 scallions, chopped
1/2 cup chicken stock
1/4 cup dried apricots, chopped
1 teaspoon grated fresh ginger
1/3 cup pitted green olives, halved
Directions:
Using a vegetable peeler, remove 2 1-inch-wide strips of the peel from the orange. Squeeze the juice from the orange into a bowl and set aside.
Whisk the flour, turmeric, salt, cumin and coriander together in a medium bowl.
Heat the oil in a skillet over medium-high heat.  Dredge the chicken in the flour mixture and add it to the skillet. Add the orange peels. Cook the chicken until it's no longer pink, about 4 minutes per side.
Stir in the juice, garbanzo beans, half the scallions, the chicken stock, dried apricots and ginger. Bring to a boil. Reduce the heat to low and simmer, uncovered, for about 5 minutes. Stir in the olives and cook for another minute.
Remove the chicken and discard the orange peel. Place the chicken over cooked white rice on a plate. Sprinkle with the remaining scallions and serve.
Disclosure: This is not a sponsored post. Melissa's provided me with the garbanzo beans for recipe testing. As always, any opinion expressed is my own and is not influenced in any way by the manufacturer/PR firm as I only review products that I have personally tested and endorse.