One more post on Kentucky then Kitchy will go back to recipes and cocktails… I promise. But if you're going to Kentucky for the Derby, you're going to need a place to stay, right? While you could stay at a very nice, fancy hotel, Hubs and I prefer Bed & Breakfasts. We've always liked them because the places are usually much smaller (only 5 – 10 rooms at most), and the breakfasts are always out of this world. Since we were all over the state, we stayed in 3 different B&B's, and since the Derby is in Louisville, I'll start there.

After much research, we decided to stay at 1840 Tucker House. It was a few minutes outside of the city, but nice and quiet and absolutely gorgeous. The antebellum house was commissioned by Hazael and Nancy Jane Tucker in 1840 and is currently on the National Register of Historic Places. Hubs and I stayed in the Traveler's Room which was upstairs. It's called the Traveler's Room because it was customary at that time for travelers to stop at strangers' homes and ask for a room for the night. So, the Traveler's Room was the original Bed and Breakfast room. We had our own entrance so we could come and go as we pleased, which was helpful since we returned from 610 Magnolia late our first night. It also included a private deck with a table and chairs so if we wanted to (and if it had been warmer), we could've enjoyed a glass of wine or coffee out on the deck while staring at the beautiful view.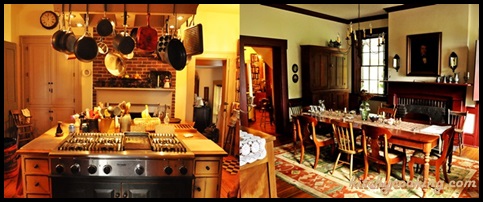 Innkeepers Devona & Steve Porter keep a very clean house and serve a phenomenal breakfast. It was so good, in fact, that I purchased the cook book, Room at the Table, which has several recipes from Devona and Tucker House. The Porters are kind and considerate and very attentive. Anything I needed, Devona was happy to provide. Hubs and I had such a good time and were so comfortable at Tucker House, we would absolutely stay there again. Hopefully for a longer visit.
Since we were doing the whole Bourbon Trail, we couldn't spend all our time at Tucker House. So, we bid adieu and moved on to Bardstown where we stayed at another beautiful antebellum house, the Bourbon Manor Bed and Breakfast. There are 6 rooms and they're all huge. We stayed in the Hotty Toddy, named after the classic bourbon cocktail because it's yellow and warm. The classic room has a large 4-post king size bed and plenty of room for a sofa and table.
What makes Bourbon Manor special isn't just the rooms and the attentiveness of the staff. They turned the stablehouse in the back into a full bar. There's music and tables and they open it up after dinner for drinking and dancing. It's beautiful and so much fun and absolutely not what you'd expect from a B&B. But if the lively bar isn't enough for you to stay at this delightful manor, the breakfast the next morning will definitely make you want to return. We started with what Todd Allen (one of the hosts and owners of Bourbon Manor) called a Between the Sheets which was scrambled eggs baked between two pieces of puff pastry and topped with country gravy. It was served with Garlic Parmesan Potatoes and fresh fruit of the season.  That would have been filling enough, but in case there was any room left, they had dessert as well.  Dessert for breakfast? You betcha. It was a cinnamon crumble muffin drizzled with caramel bourbon sauce. I was so full, I could only eat half, but oh, my god, it was soooo good. I wish we could have stayed longer, but Woodford Reserve, in Versailles was waiting, so off we went to our final destination: Lexington.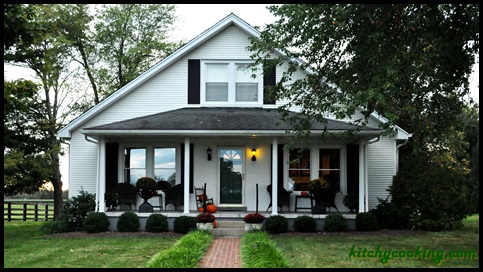 We did things a little differently in Lexington. Yes, we still stayed at a Bed & Breakfast, but unlike the other two which were just houses on their own, this time, we stayed at a guesthouse on a Thoroughbred farm. That's right, I said farm. Since Lexington is right in the middle of horse country and home to Keeneland (the other horse race of Kentucky), Hubs and I thought it only appropriate that we stay among the horses for at least one night. If you're in Kentucky for the Derby and want to trip out to Lexington, than you must stay at Rosecrest Farm.
A couple towns over from Lexington, Rosecrest Farm is located in the small town of Paris. The guesthouse is small and charming with a total of four bedrooms, a cute little kitchen, living room and dining room. While the guesthouse is lovely, it's actually the surrounding farm, that makes this B&B unlike any other. Upon our arrival, Lyra Miller (one of the owners) greeted us and gave us a tour of the grounds. We got to see the barn and pet and feet the horses. But there's no riding. Every horse that stays at Rosecrest is a thoroughbred, they're all either being trained or taking a break between races. But just because we can't ride the horses doesn't mean we can't walk around whenever we like and pet and feed them, hence the tour. Lyra doesn't want any of her guests getting lost on the expansive farm during their stay. The whole experience was wonderful and Lyra was the perfect hostess.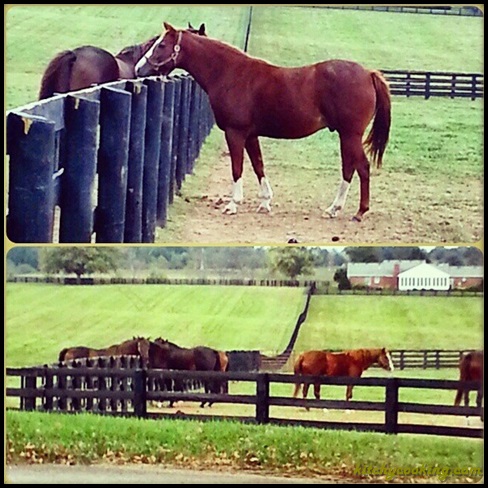 Since we were the only ones staying at the farm (because it was a weekday and all the guests had just left) we got to pick when wake up and breakfast was. So right at the requested time, Lyra served up some delicious scotch eggs, baked cinnamon apples, toast and some of the best coffee I think I've ever had. It was so good in fact, we drove into Paris and made a special stop at Lil's Coffee House on our way out of town just to so we could bring a couple pounds home with us. All in all the stay at Rosecrest Farm, while short, was absolutely delightful. I can't wait to go back.
So, no matter what town you're staying in while visiting the Derby or the Bourbon Trail, there's definitely going to be a Bed & Breakfast to suit your fancy. As I said, Hubs and I only got to stay in three while we were there. But each one was memorable and will definitely host us again, whenever we return.