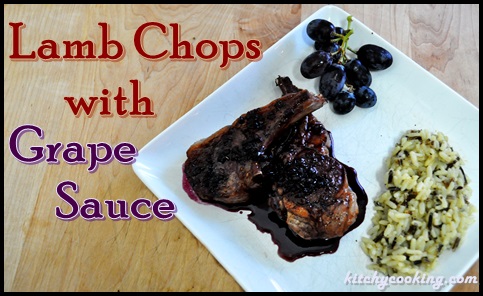 Grapes are at the height of their season right now. Red ones, green ones and of course the purple ones. While I enjoy turning my grapes into juice or just eating them right off the stem, on occasion I try to do something a little different with the sweet fruit. These lamb chops gave me just such an opportunity.
Here's what I love about lamb rib chops: they're small so they cook very quickly, you can eat them with your hands and no matter what you do to them, they're full of flavor. I make lamb chops all the time, but I've never made them with a fruity sauce. I usually just grill or sear them up and serve them with mint jelly and a delicious side. But when I found this recipe in Fine Cooking, that all changed.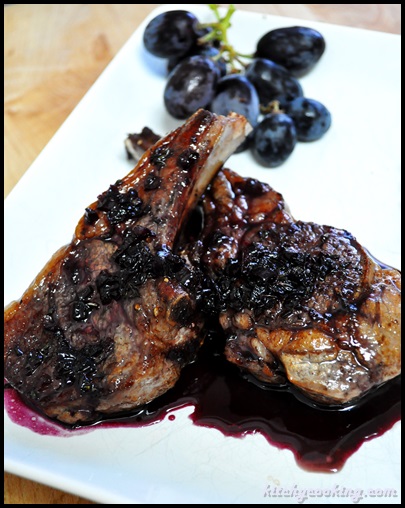 As I said, I've used grapes in recipes before, but the idea of cooking the grapes down into a thick, sweet sauce was something I'd never really considered. I mean, I've turned wines and vinegars into sauces for a variety of meats and proteins, but I don't think I've ever taken a piece of fruit and cooked it down into a thick, sweet sauce. Well, except for cranberries. I turn cranberries into sauce every year for Thanksgiving, but that's another story for another post. Anyway, now that I've turned grapes into a sauce, I can't wait to do it again. I may even try a different fruit like raspberries or strawberries. Sure, it takes a little more time than wine or vinegar, but cooking down the whole fruit give the sauces a much stronger flavor.
This sauce was sweet and tart and tasted just like grape jelly. Everyone in the family loved it – even my boys. What was really great about the sauce though, was that it didn't hide the savory flavors abundant in the lamb chops. That sauce combined with the finger-food aspect make these lamb chops the perfect weeknight dinner choice.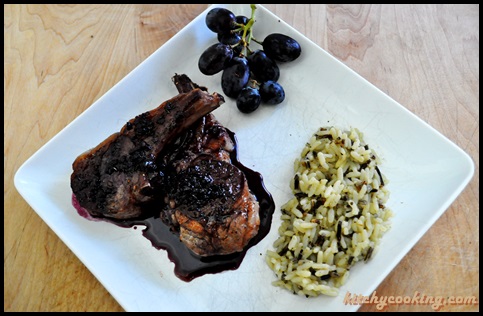 Lamb Chops with Grape Sauce
Ingredients:
8 lamb chops
10 oz. grapes
2 tablespoons sugar
1 medium shallot
2 teaspoons fresh thyme, chopped
2 teaspoons fresh rosemary, chopped
1/4 cup ruby port
1 teaspoon lemon juice
2 tablespoons olive oil
Directions:
Pat the lamb chops dry with a paper towel, season with salt and pepper and set aside.
Cook the grapes and sugar over medium heat in a large saucepan. Mash the grapes with a wooden spoon as they cook until they're broken down. Increase the heat to medium-high and simmer until the sauce thickens slightly, about 3 minutes. Strain through a sieve into a heatproof bowl. Rinse out the pan, return the grape sauce to the pan and set aside.
Melt the butter in a large cast iron skillet over medium heat. Add the shallot, rosemary, and thyme and cook until the shallot is tender about 2 minutes.
Remove the pan from the heat, add the port and swirl until the sizzling stops. Return the pan to the heat and simmer until liquid is almost gone. Scrape into the grape sauce, stir in the lemon juice, season to taste with salt and pepper and keep warm.
Wipe out the skillet and heat one tablespoon of butter and olive oil over medium heat. Add the lamb chops, four at a time, and cook until browned on both sides, about 5 minutes. Transfer to a platter and repeat with the remaining butter, oil and chops. Drizzle the grape sauce over the lamb chops and serve with the remaining sauce.