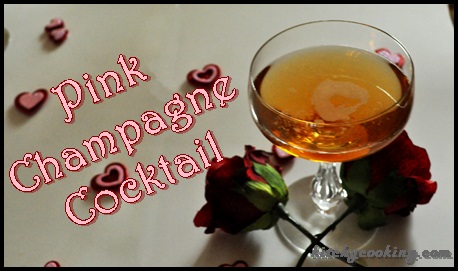 Okay, so this cocktail isn't exactly pink, it's more of a rosy orange color. But since Valentine's Day is Tuesday and pink is in the title, I thought it would be the perfect cocktail for the infamous heart holiday.
This cocktail is just like a classic Champagne Cocktail with one small, but very important detail: an ounce of cognac. That cognac adds a nice flavor to the already tasty champagne cocktail, turns it into a delicious after dinner drink and makes that romantic dinner for two something really special.
Unlike the champagne cocktail which was created in the mid-1800's, this drink comes from the Top of the Mark: a vintage bar at the top of the Mark Hopkins hotel in San Francisco. With its 360° views, the bar became the spot for WWII servicemen, dignitaries and celebrities, and it had the food and cocktails to go with it. With that kind of history, Hubs and I just had to take a trip up to the 19th floor to enjoy a drink or two. It was during that nightcap I discovered the cocktail.
The menu has changed a lot since the bar's heyday, but luckily there are several display cases filled with photos and newspaper clippings about what the bar used to be like. There also happened to be an old menu of their special cocktails. Sure, they made things like Manhattans and Martinis, but there were also drinks called a Lady Hopkins and a Cable Car, both of which will appear on this blog in the future. Not only did the menu list several drinks, it also listed prices. I was in awe. It just so happens that today's drink tapped out at a whopping one dollar. Yup, a buck. For champagne!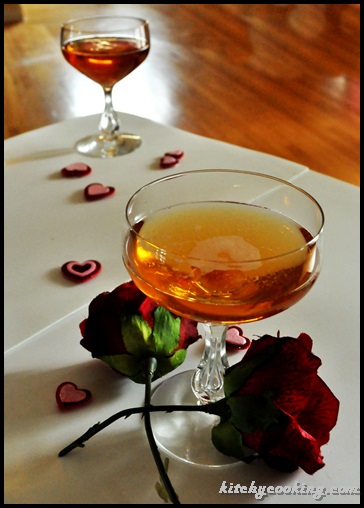 So while today you won't be able to find a glass of champagne for a dollar, there's no reason you still can't enjoy the drink. Just pick your favorite champagne along with your favorite cognac, mix them together and you've got yourself one hell of a delicious cocktail to share with that special someone.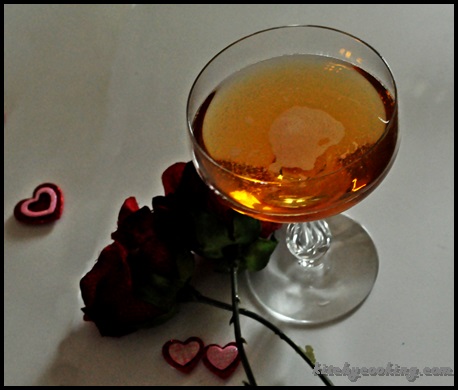 Pink Champagne Cocktail
Ingredients:
1 sugar cube
3-4 dashes of bitters
4 ounces of champagne
1 ounce cognac
Directions:
Soak the sugar cube with bitters and place in the bottom of a champagne flute or coupe.
Add the champagne then float the cognac on top and serve.