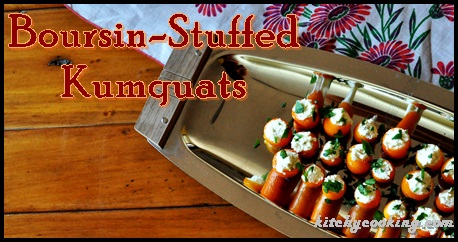 Now that we're getting into spring and summer, that means more time outside. And more time outside means more picnics and family barbecues. But then we come to the question about what to serve for those events. Fried chicken is a good choice as are burgers and fruit salads. But those are all main courses or side dishes. What do you serve when the party is just getting started? Appetizers of course and there's no better appetizer than the kind that you can pick up and pop in your mouth. These Boursin-stuffed Kumquats are just that kind of appetizer.
I learned about these awesome little appetizers when Cathy Thomas, a food columnist for the Orange County Register and Orange Coast Magazine came to Melissa's Produce to talk about the three cookbooks she wrote for Melissa's: Melissa's Great Book of Produce, Melissa's Everyday Cooking with Organic Produce and 50 Best Plants on the Planet, which focuses on the fifty most nutrient dense fruits and vegetables that grow on earth. All three are great books and provide a lot of wonderful recipes. But this little gem is something that Thomas told us about when she was describing different ways to serve fruits and vegetables.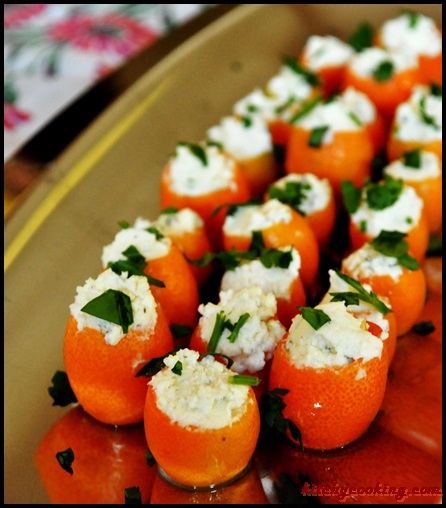 Kumquats are a citrus so they're usually available starting around November and going through early to mid spring. But Melissa's has them through July which means you can start serving this appetizer in January, serve it on Mother's Day and continue serving it all the way through the 4th. Here's the thing about kumquats, though, they're unlike any other kind of citrus out there. See, most citrus, especially oranges, have a bitter, sour peel and a wonderfully sweet flesh. But the kumquat is different. Its peel is sweet and tart while the insides are sour and bitter.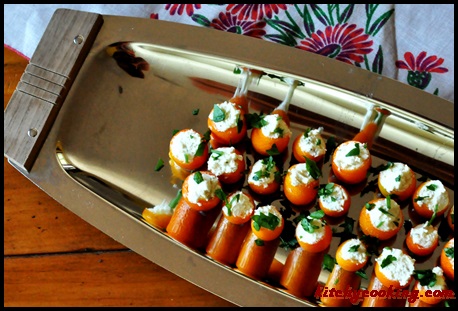 I've never been a big fan of the kumquat because the insides are so sour. But scraping the flesh out and filling it with a savory cheese means you're left with the best part of the kumquat and have a delicious creamy, herby cheese to compliment the sweet exterior. Even better, since the kumquats are so small they're the best kind of finger foods. You can pick one up, pop it in your mouth and go back for seconds. But beware, these little bites are so addictive those seconds could easily become thirds, fourths or even fifths.
There's just one problem with these awesome little apps. They definitely take some time to make. You need the smallest melon-baller you can find to scoop out all the flesh. Then take another small spoon and stuff the inside with the cheese. It's a cinch to do, but does take awhile. While I used spoons to stuff the kumquats, next time I'd definitely use a piping bag. But once you're done, these stuffed kumquats don't just look beautiful, they taste amazing and will definitely be a hit at your next party.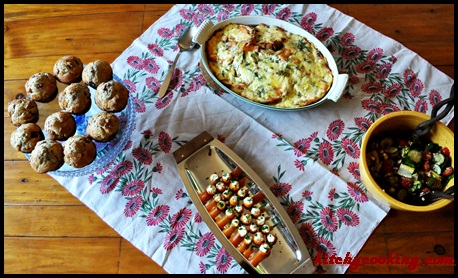 Boursin-Stuffed Kumquats
Ingredients:
1 pint of kumquats
1 package of Boursin cheese
2 tablespoons of chives or Italian parsley, finely chopped
Directions:
Wash and dry all the kumquats. Slice the tops off each piece of fruit. Slice a tiny piece off the bottom so each kumquat will stand flat on your serving try.
Take your tiny mellon baller and scoop out all the flesh from inside the fruit. Repeat with the remaining kumquats.
Place the Boursin in a piping bag. Pipe the soft cheese into each piece of hollowed out fruit. and place on a serving tray. Repeat with remaining kumquats, until all are stuffed. Sprinkle with chopped chives and serve.