Quince Cranberry Crumble
November 9, 2017
by Jennifer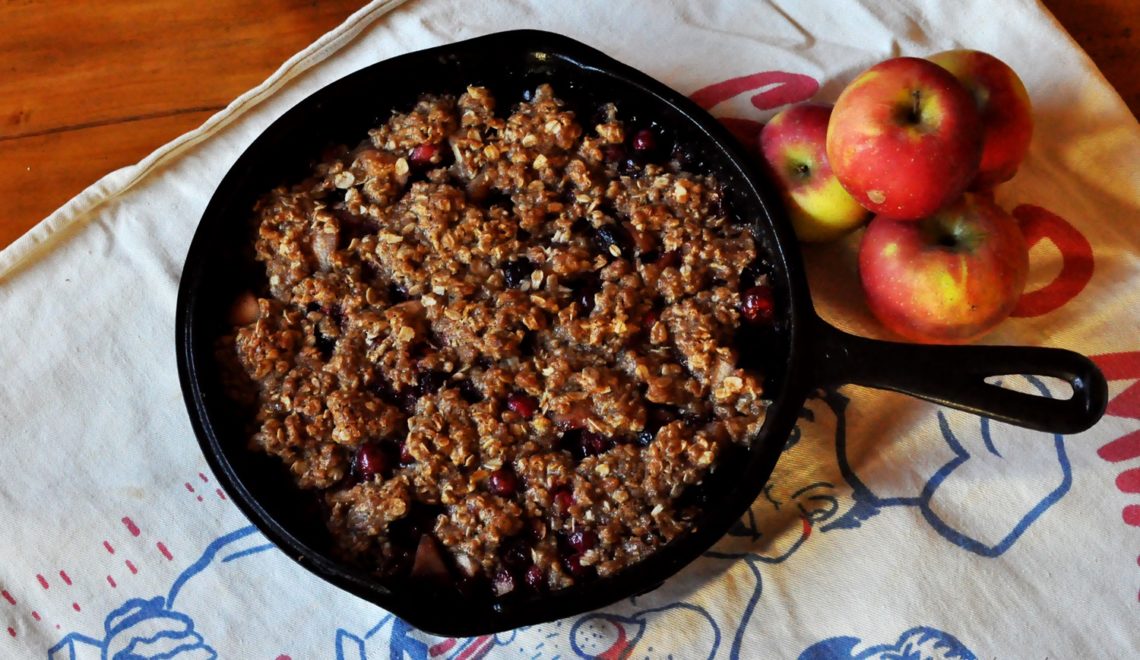 November means turning the clocks back, red and orange leaves, cool breezes and the occasional rain storm. It also means turkey with all the trimmings, green beans and pumpkin pie. There's just one problem… I don't like pumpkin pie.
I'm not saying I don't like pumpkin… I just don't like it in pie form. I prefer puddings, cheesecake or even flan. But if I had my druthers (and I'm making the dessert) it's going to be fruit or chocolate. Which is why I was thrilled when Melissa's Produce sent me a box full of fruit. I got apples, persimmons, and quinces.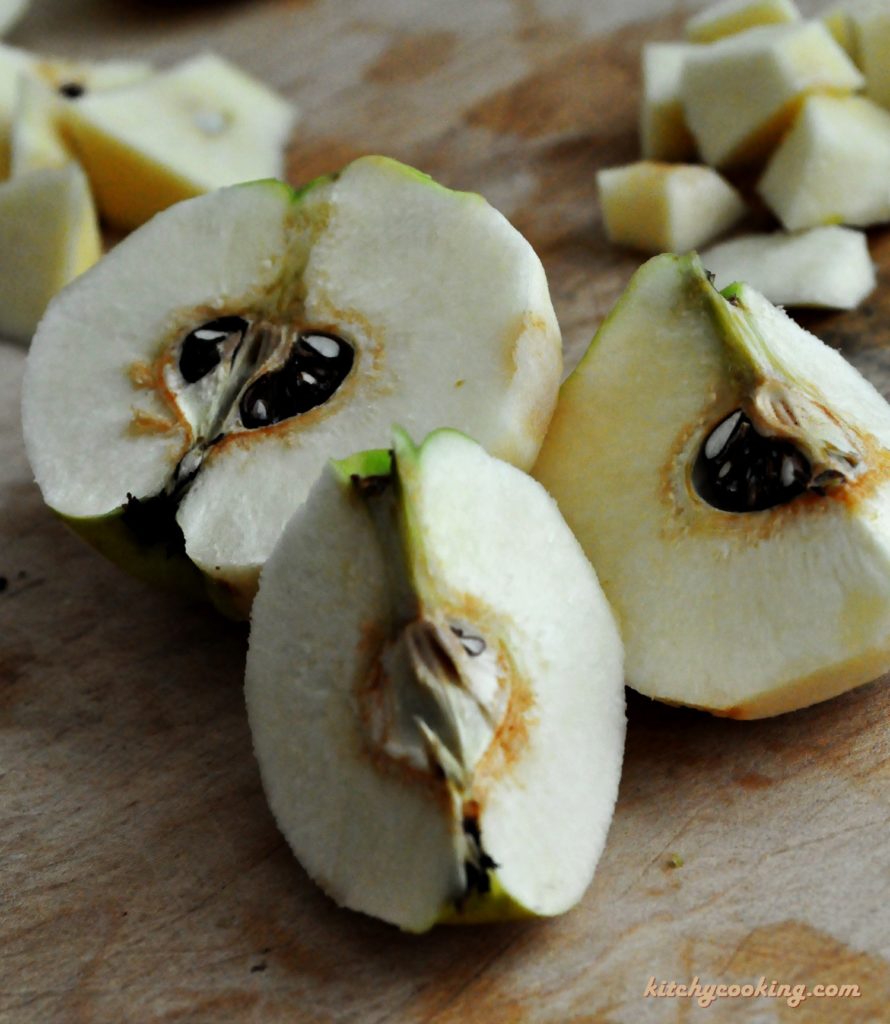 I'd never heard of quinces, so I did some research. Turns out they're from the Middle East, and Latin America. They look like a cross between an apple and a pear and taste like it as well. But here's what's really cool about them, they change color as they cook. Not only do they get softer and sweeter, they go from white to pink to purple making them perfect for tarts, jams and jellies. But since they taste so much like apples and pears, (and Thanksgiving is right around the corner) I thought I'd use them to make a crumble.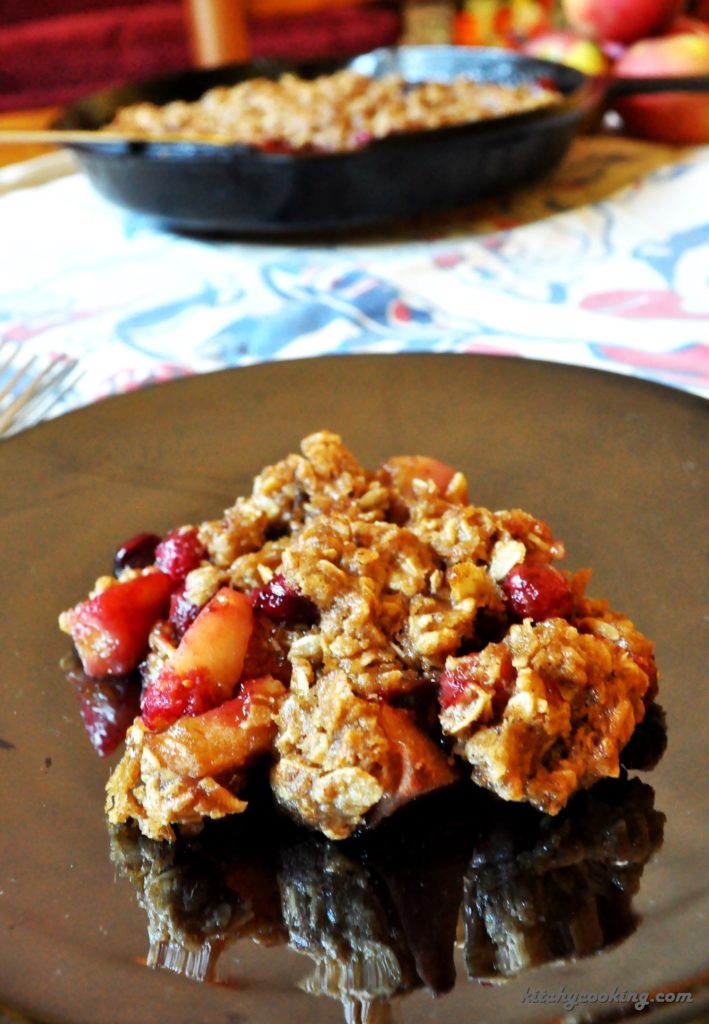 Why did I make a crumble instead of a pie? Because I've never been a big fan of pie crust – eating it and especially making it. See, it rarely turns out right for me. I know, I know, it's easy and all you need is practice, but if I have the choice of making a pie or a cake or cookies, I'm going with the cake or cookies. So, while I'll avoid pie making at all costs, I have no problem baking a crumble or crisp because they're just so easy. See, the filling is exactly the same as a pie, but it's the crust that's different. There's no bottom crust, it's usually made with oats, nuts, sugar and butter (or any combination thereof) and it doesn't have to fit in a pie plate. But best of all, you don't have to cover the whole pan with it. You can just sprinkle it over the top of the fruit and it'll spread, making an almost lattice-like crust that's sweet and crunchy and a nice contrast to the soft, tart fruit filling.
While the quinces make a great filling all by themselves, I wanted this crumble to be more festive and just a bit more tart. So, I added cranberries because let's face it the holidays are all about cranberries. They can be found in sauces, sides, pies and even cocktails. As I suspected, one simple cup of cranberries adds a nice pop of tartness that ties the whole crumble together, making this a wonderful dessert for Thanksgiving, Christmas or New Year's.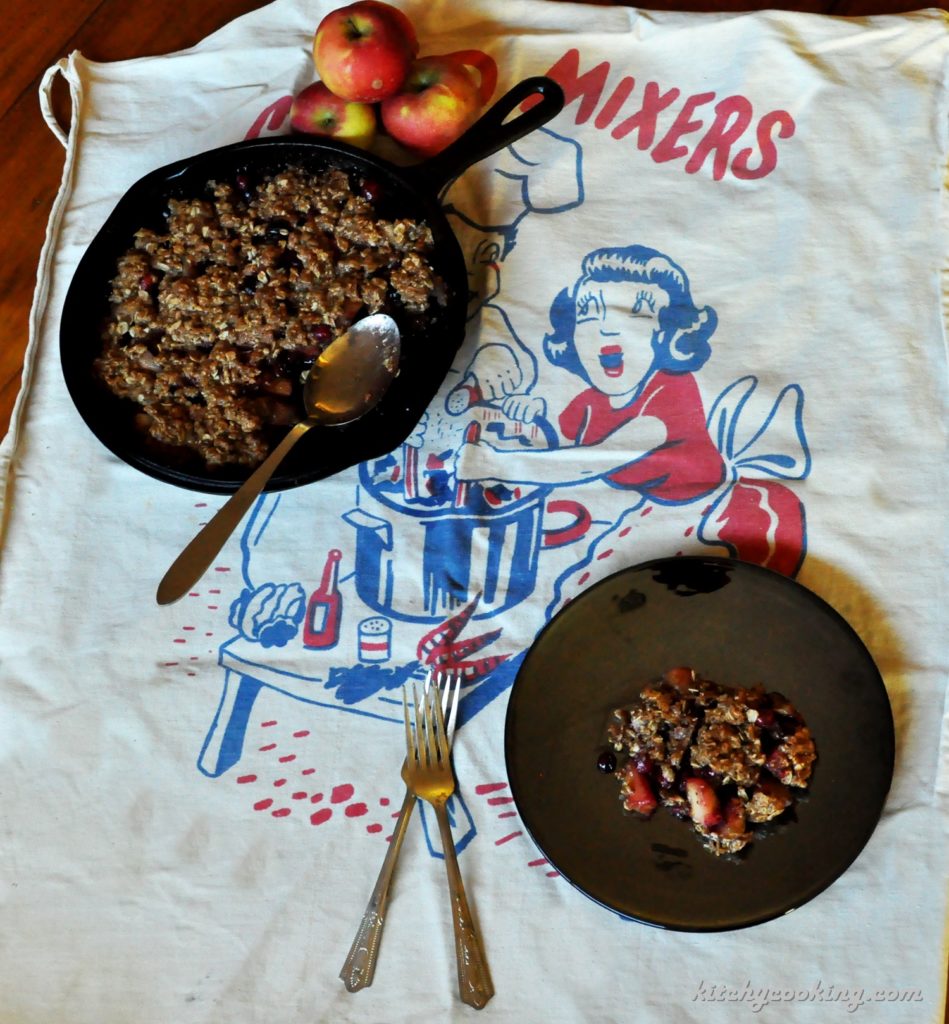 Ingredients
10 tablespoons butter, divided
3/4 cup brown sugar, divided
4 quince, peeled, cored and chopped
3/4 cup of rolled oats
3 tablespoons flour
3/4 teaspoon cinnamon
1 cup cranberries
Instructions
Place a 10-inch cast iron skillet over medium heat. Add 4 tablespoons of butter and 1/4 cup sugar and cook, stirring occasionally until the butter is melted and the mixture starts to bubble.
Add the chopped quince to the sugar mixture and stir to coat. Reduce heat to low and cook for an hour or until the quince soften up. Stir in the cranberries ten minutes before the quince are done cooking.
While the quince cooks, make the crumble by placing the remaining butter, sugar, oats, flour and cinnamon in a bowl. Using your fingers, mix together until you have little clumps of butter and oats.
Preheat the oven to 350 degrees F.
Sprinkle the crumble topping over the quince and cranberries in the skillet. Transfer to the oven and bake for 30-35 minutes or until the top is golden brown and the fruit mixture is bubbling around the edges. Let cool for 5-10 minutes and serve with vanilla ice cream.
http://www.kitchycooking.com/2017/11/quince-cranberry-crisp/