Royal Purple Cooler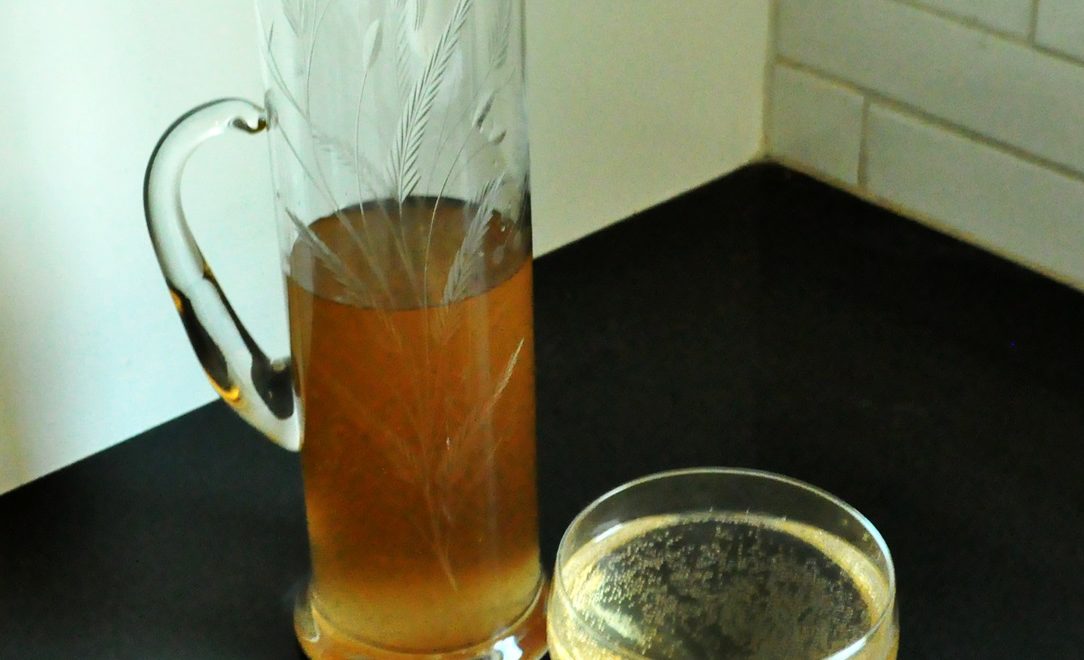 New Year's Eve is Sunday and there's nothing more I love than a good party. It doesn't matter if I'm going out or staying in, as long as there's good music and great friends, I'm happy. But music and friends aren't the only key to a good party. You also need food and drink. This isn't just any ordinary party, though. It's New Year's Eve! That means you need some pretty cool cocktails, and at least one of them has to have champagne.
While you could serve straight champagne, an spectacular cocktail is so much more interesting. But if you're like me, you'd rather be mingling with your guests than playing bartender. Well, that's what's so great about this drink: you can mix up a pitcher of the main part, and have it on the bar with a bottle of champagne and flutes for your guests to put together. It's that easy and it's a nice alternative to the standard Champagne Cocktail or a boring old glass of champagne.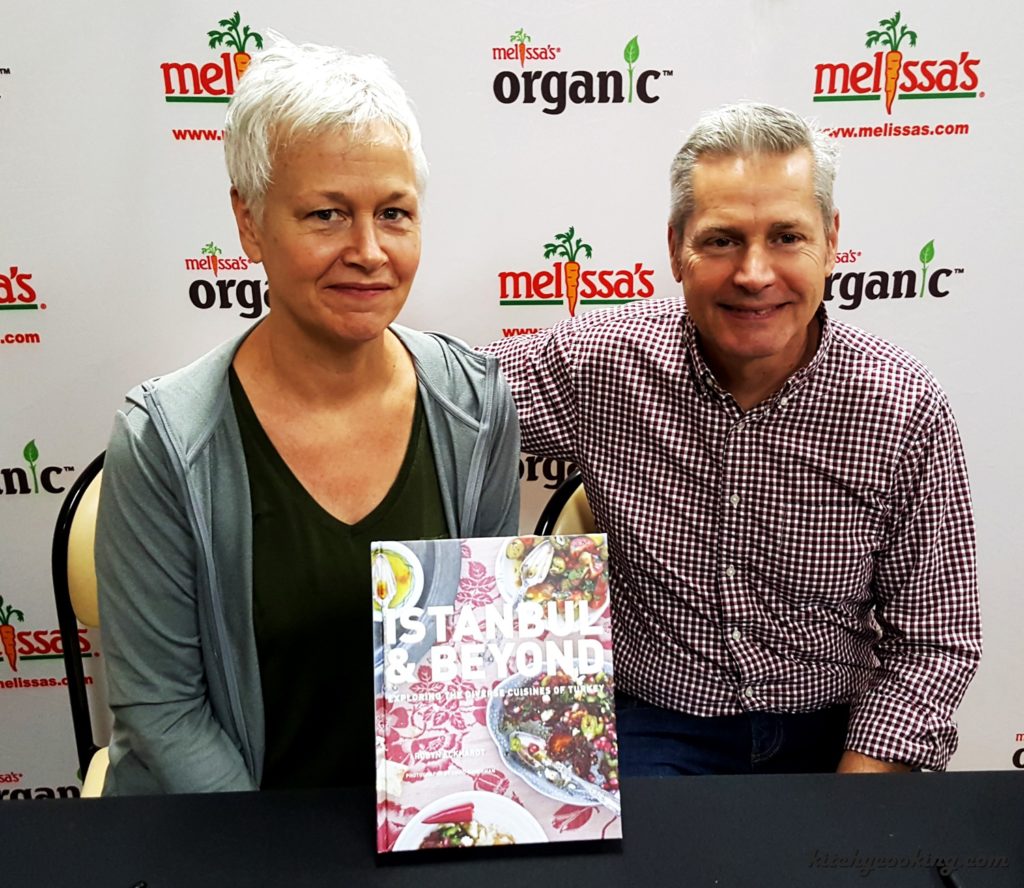 I came up with this drink thanks to Robyn Eckhardt and David Hagerman and their travels to Turkey. Over the course of twenty years and several trips to the country, the couple not only discovered tons of delicious food beyond the standard kebab and baklava, they also got to experience the culture and enjoy a drink or two. One such drink was this easy-to-make and very palatable Purple Basil Cooler.
The Cooler comes from simply steeping purple or Thai basil in hot water for a few hours, adding a little sugar and some lemon juice and then enjoying over ice. I was lucky enough to taste this drink while meeting the cooks at Melissa's Produce a few weeks ago. Eckhardt described their travels with so much joy and excitement it made me want to get on a plane and visit Turkey immediately. While I can't escape to that foreign land right now, I can still enjoy the food thanks to her and Hagerman's beautiful new cookbook, Istanbul and Beyond.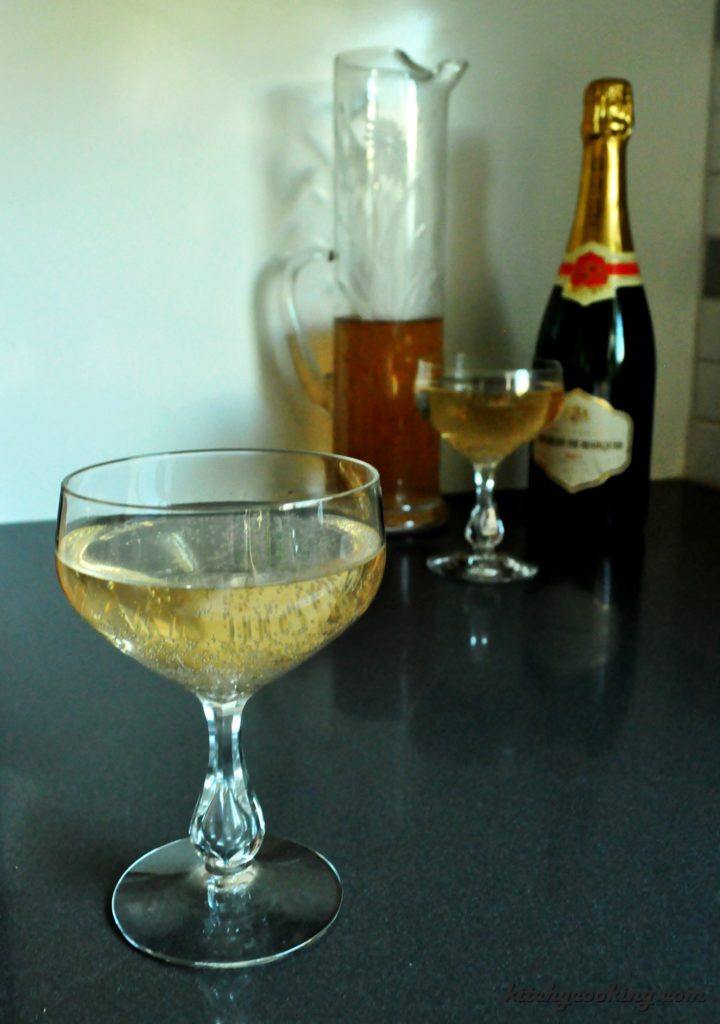 On its own, the Purple Cooler is sweet with a slight hint of anise, thanks to the Thai basil and would be wonderful served over ice on a warm spring day. But since we're right in the middle of holiday season, I wanted to spice things up. (That and I'm all about the awesome cocktail.) So, I decided to add a couple ounces of champagne and suddenly I had a cocktail worthy of ringing in the new year.
While this concoction has no history (because I created it), the original Purple Basil Cooler is a traditional drink that comes from the Northeast part of Turkey where it has been imbibed for decades.  While I was unable to achieve the beautiful magenta hue of the country, the flavors still ring true and are definitely worthy of a sip or two whether it be on any ordinary day or for a special occasion. This Cooler is delicious on its own and will last for several days, so once summer hits, I intend to make a quart or two to keep in the fridge. But until then, I'll enjoy the Cooler with a little champagne between kisses at midnight with my man.
Ingredients
4 cups boiling water
3 tablespoons sugar
2 big bunches fresh purple or Thai basil, stems included, washed, and coarsely chopped
1 tablespoon lemon juice
2 ounces champagne
Instructions
Pour the water into a large pot, add the sugar and stir until dissolved. Add the basil and stir until wilted. Cover the pot and set aside to infuse for at least 3 hours.
Stir in the lemon juice.
Strain into a pitcher and store in the refrigerator.
Pour 3 ounces of Cooler into a champagne flute. Top with champagne and serve.
http://www.kitchycooking.com/2017/12/royal-purple-cooler/