Gin Daisy
March 25, 2016
by Jennifer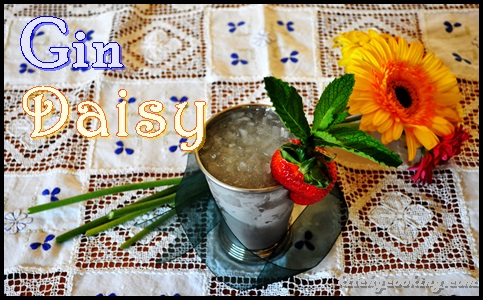 Spring officially started this week and Easter is on Sunday, so I thought a cocktail that goes by the name Daisy would be apropos. Easter and spring are all about rebirth. Flowers are blooming, leaves are reappearing on trees and there seem to be puppies and baby birds everywhere. (Did you know it was National Puppy Day this week too?)
While Gerber Daisies and regular daisies will look beautiful on your Easter table, something else that will go well with all those ham and eggs is this cocktail. But if gin isn't your liquor of choice, there are several daisies you could make, because it turns out daisy cocktails can be made with any liquor you choose. I chose gin because that's what the classic Savoy Cocktail book used. There's also a whiskey daisy in there. And in Baker's Gentleman's Companion, he uses rum. Needless to say, whichever liquor you use, you're going to get a great, fresh cocktail.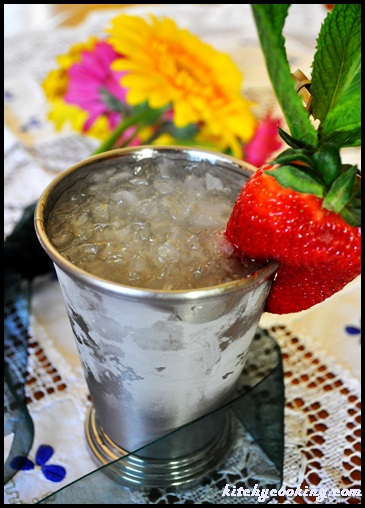 Now this cocktail may sound like a Collins or a Fizz, but what separates this drink from those others is the crushed ice and the Chartreuse. It may look like a Mint Julep since it's served in a silver cup with a sprig of mint as garnish. But it's the Chartreuse that really sets this cocktail apart. See, the float of Chartreuse gives the drink a slight sweetness and adds some herbal notes that when combined with the gin make for a delightful drink. A drink worthy of ushering in spring and the flowers for which its named.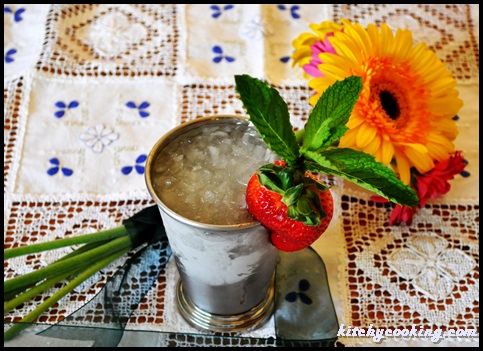 Gin Daisy
Ingredients:
2 oz. gin
1 teaspoon simple syrup
1 oz. lime juice
3/4 oz. yellow Chartreuse
club soda
sprig of mint and seasonal fruit for garnish
Directions:
Fill a julep cup with crushed ice and set aside.
Place the gin, syrup and lime juice in a cocktail mixing glass. Add ice and give a few stirs until flavors are blended.
Strain the mixture into the prepared julep cup. Add the Chartreuse and soda. Garnish with a sprig of mint and some fruit that's in season (I used strawberries) and serve.