Beef and Barley Stew
February 15, 2017
by Jennifer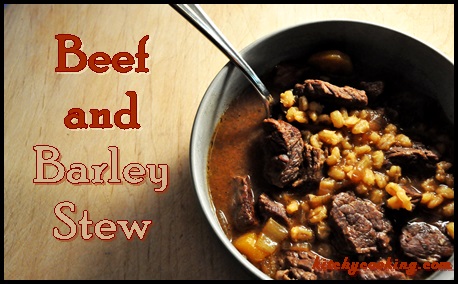 Rain, glorious rain! Yes, if you've been living anywhere in California you know that we've been getting record amounts of rainfall over the past six weeks. Did you know that Northern California is officially out of the drought and Southern California is also almost there? It's amazing! Don't get me wrong, I love the rain. I love being able to wear sweaters and Uggs during the winter months. It's been kind of a novelty recently. But this week we had sun! It was warm. The boys actually wore shorts and T-shirts! It was wonderful! I wish it would last. But unfortunately there's more rain scheduled for this coming weekend. That rain means more chilly temperatures and more sweater weather. But it also means it's the perfect time for stews, soups and chilis.
A few weeks ago the rain was pelting the windows and all I wanted was a big hot bowl of soup. But not that boring see-through broth, and absolutely nothing that came out of a red & white can. I wanted something thick and hearty, with vegetables and maybe even a little meat. Something that would stick to your bones and make you feel all warm and cozy inside. Then I remembered this amazing stew I had at a food blogger L.A. event back in December.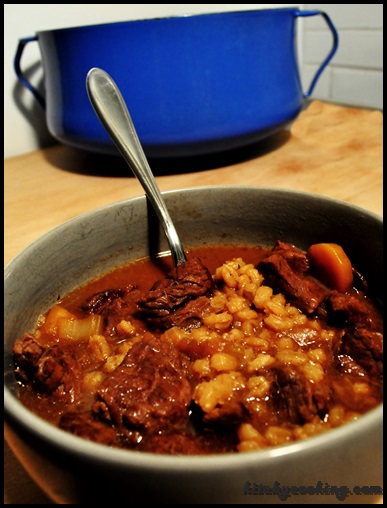 It was our annual cookie swap and everyone made and brought cookies. But Judy from My Well Seasoned Life didn't just bring cookies, she also brought this amazing Beef Barley Soup. It was warm and comforting and absolutely delicious! Just thinking about that soup makes my mouth water. So, I decided to make my own version. I was so well sated at the end of the evening, I thought I'd share.
What makes this soup so filling isn't just the beef, it's the barley and the vegetables. But unlike some soups, this isn't one you can just whip up in half an hour. This soup is one of those meals that gets better the longer it simmers on the stove. So, if you're planning on making this for dinner on one of these chilly winter nights, make sure it's on a day where you're going to be home for at least a couple hours. The end result will be well worth the time spent, I promise.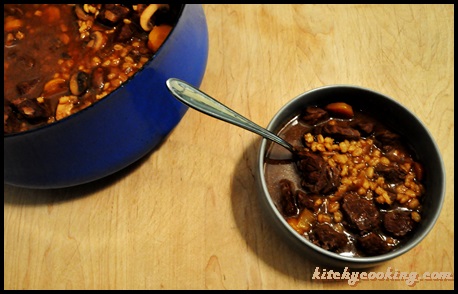 Beef and Barley Stew (adapted from My Well Seasoned Life)

Ingredients:
1 tablespoon olive oil
2 pounds beef chuck, cut into 1-inch cubes
1 medium onion, chopped
8 oz. cremini mushrooms, sliced
2 carrots, peeled and chopped
2 stalks of celery, chopped
4 garlic cloves, minced
2 teaspoons fresh thyme, minced
1/2 cup dry red wine, like a cabernet or merlot
3 cups beef broth
3/4 cup pearl barley
salt and pepper to taste
Directions:
Pat beef dry with paper towels and sprinkle with salt and pepper.
Heat oil in a large pan over medium-high heat. Add the beef and brown on all sides; transfer to a bowl.
Add the onions to the pot and cook until tender, about 5 minutes. Stir in the mushrooms, carrots and celery and cook until the liquid from the mushrooms has evaporated and the vegetables begin to brown, about 6 or 7 minutes.
Stir in the garlic and thyme and cook until fragrant, about 30 seconds.
Pour in the wine and scrape up any browned bits off the bottom of the pan with a wooden spoon.
Stir in the broth and browned beef along with any accumulated juices. Bring to a boil then reduce the heat, cover and simmer for about 45 minutes.
Stir in the barley and salt and pepper to taste; recover and continue to simmer for another 30-40 minutes. Ladel into bowls and serve.