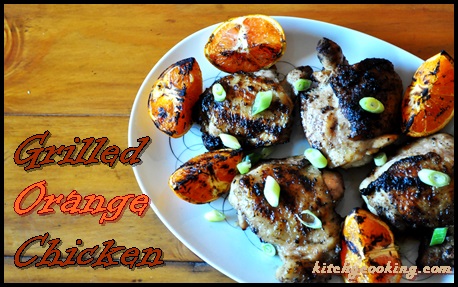 I hate being inside when the weather's warm. All I want to do is hang by the pool or play on the beach or just lay in the backyard and read a book or magazine. The last thing I want to do is be stuck inside and cook over a hot stove, especially when my stove is a vintage gas range where the gas is always on. That means my kitchen is always hot. So, during the summer, I cook outside and use my grill.
My favorite things to grill are chicken, steak, vegetables as well as fruit. While they're all good on their own, they're even better when you mix and match. Every summer I make my Grilled Chicken and Corn Salad because it's so easy and so good. I also like to grill up a few oranges and lemons and make Sangria. But this year I discovered a delicious chicken and orange recipe from Good Housekeeping that will definitely be on my summer menu from now on.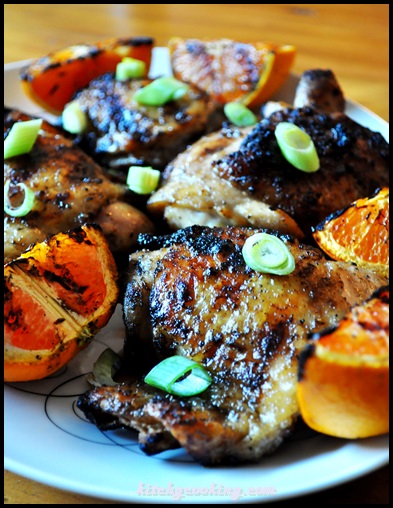 What's great about this recipe is that it doesn't take very long to make (only about 35 minutes once the grill is hot), and the chicken comes out juicy and crispy thanks to the spice rub and orange juice. But what I really love about this recipe is how versatile it is. See, my children and I hate spicy food, but my husband loves it, as do a lot of other people I know. So, while the recipe calls for couple teaspoons of ground chipotle chiles, they can easily be left out of the savory spice rub and you won't lose any of the delicious flavor. But that rub isn't the only reason these thighs are so good.
See, I love savory spices on proteins. But when you add a sweet and tangy juice… well that just raises the bar to a whole other level. The juice in this recipe comes from oranges. I used Valencias because they're so sweet, but any orange will do. I didn't just squeeze the orange juice over the chicken, though. I grilled them first. Grilling the oranges add a nice smokey tang that's unlike eating the oranges straight out of the peel. It's that smokey tang combined with the savory spices that move this chicken dish to the top of my summer dinner menu and make it perfect for either a large backyard barbecue or a small family dinner.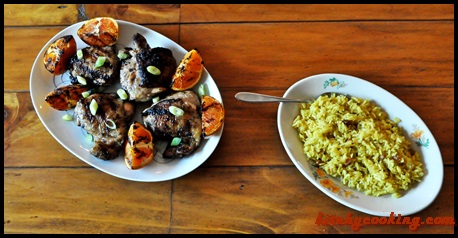 Grilled Orange Chicken
Ingredients:
1 tablespoon brown sugar
2 teaspoons ground chipotle chile (optional)
1 teaspoon ground cumin
1 teaspoon garlic powder
1/2 teaspoon onion powder
1 teaspoon salt
1/2 teaspoon ground pepper
4 pounds chicken thighs
2 tablespoons olive oil
2 Valencia oranges, cut into quarters
2 scallions, thinly sliced
Directions:
Preheat the grill to about 350°F.
Whisk together the sugar, chile (if using), cumin, garlic and onion powders, salt and pepper in a small bowl and set aside.
Toss the chicken with the oil in a large bowl and then sprinkle with the spice mixture, rubbing it in to make sure the thighs are evenly coated.
Place the chicken on the grill and cover and cook for 20 – 25 minutes, flipping once. Place the oranges on the grill for the last 5 minutes, or until there's a nice char on them. Transfer the chicken to a serving platter. Then squeeze the juice from the oranges over the chicken, garnish with the scallions and serve.