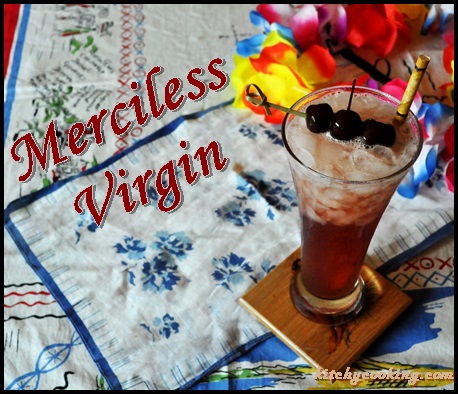 I've been doing a lot of gin and vodka cocktails this summer because like I've said in the past, I prefer drinking the lighter liquors when the weather gets warm. But this week I'm making a tiki cocktail because if there's a drink more suited to summer, it's a tiki drink.
Tiki drinks almost always have rum and a variety of tropical fruit juices to simulate life on the tropical islands. Islands like Hawaii or Tahiti or the Bahamas. Those same islands where most of us dream of vacationing. But if you can't get to the South Pacific, you can still drink like you're there with a variety of tiki drinks from the Mai Tai to the Singapore Sling.
The Merciless Virgin is another cocktail that will have you dreaming of tranquil waters and white beaches. Although not as well known as the Hurricane or Zombie, this cocktail absolutely falls into the tiki category thanks to its tropical, fruity flavors. But unlike those other classics, the flavors in the Virgin don't come from the standard mixers of pineapple and/or passion fruit juices. Instead fruit liquors like orange curaçao and Cherry Heering keep this drink sweet and tropical while giving it a bit of a kick.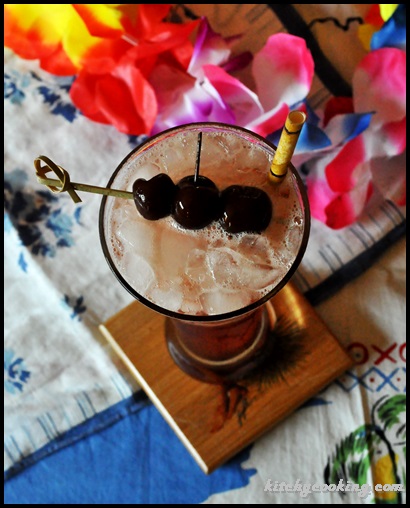 The Virgin may sound like something from the mantle of tiki masters Victor Bergeron of Trader Vic's and Ernest "Donn" Gantt of Don the Beachcomber, but this cocktail actually comes from Frank "Skipper" Kent. Kent preceded both these titans with his own San Francisco tiki bar. Much like Trader Vic's (which supposedly got its inspiration from Kent's), Skipper Kent's was a beacon of the tiki world. One magazine even called it "A rum bar where the world's greatest collection of rums and liqueurs are stocked" and it was said of Kent that "He [was] considered a foremost authority on rum and has visited practically all the West Indies and other islands, where rum is the national drink." So, it makes sense that Kent wanted to create a drink that would remind him of those virginal women of those tropical isles. He described this drink as "merciless. Ah! Moon of my delight – that knows no wane – The moon of heaven has risen once again. How oft hereafter rising – shall she look – through this same garden – after me – in vain!" With a description like that it's easy to see why this cocktail is merciless. More than one, and you'll no longer be a virgin to the tiki cocktail.
So this weekend (or any time this summer) shake up a Merciless Virgin and dream of warm summer breezes and white sandy beaches… after all that's what the Skipper would have wanted.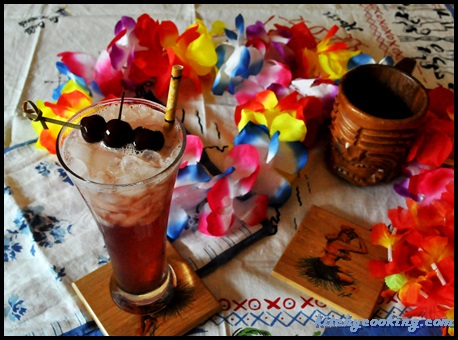 Merciless Virgin
Ingredients:
3/4 ounce lemon juice
1/2 ounce club soda
1/2 ounce Cherry Heering
1/2 ounce Velvet Falernum
1/4 ounce Dry Curaçao
1-1/2 ounces lightly aged rum
Directions:
Pour all the ingredients to a cocktail shaker. Add crushed ice and shake vigorously for at least 30 seconds.
Pour contents of shaker into a footed pilsner glass, garnish with a couple maraschino cherries and serve.