Apple Potato Latkes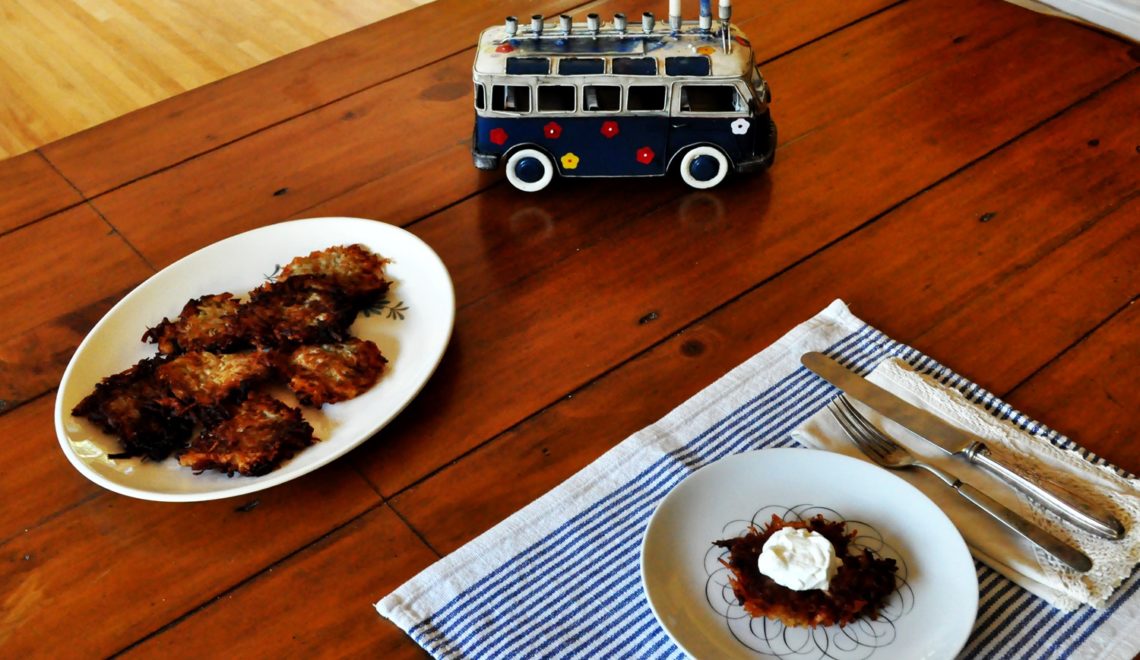 The first night of Hanukkah was last night. I love Hanukkah and all that comes with it: lighting the candles, preparing a special meal the first night, the presents (although we don't give one each of the eight nights) and of course the latkes. The latkes, also known as potato pancakes, are far and away my favorite part of the holiday. I love making them and eating them.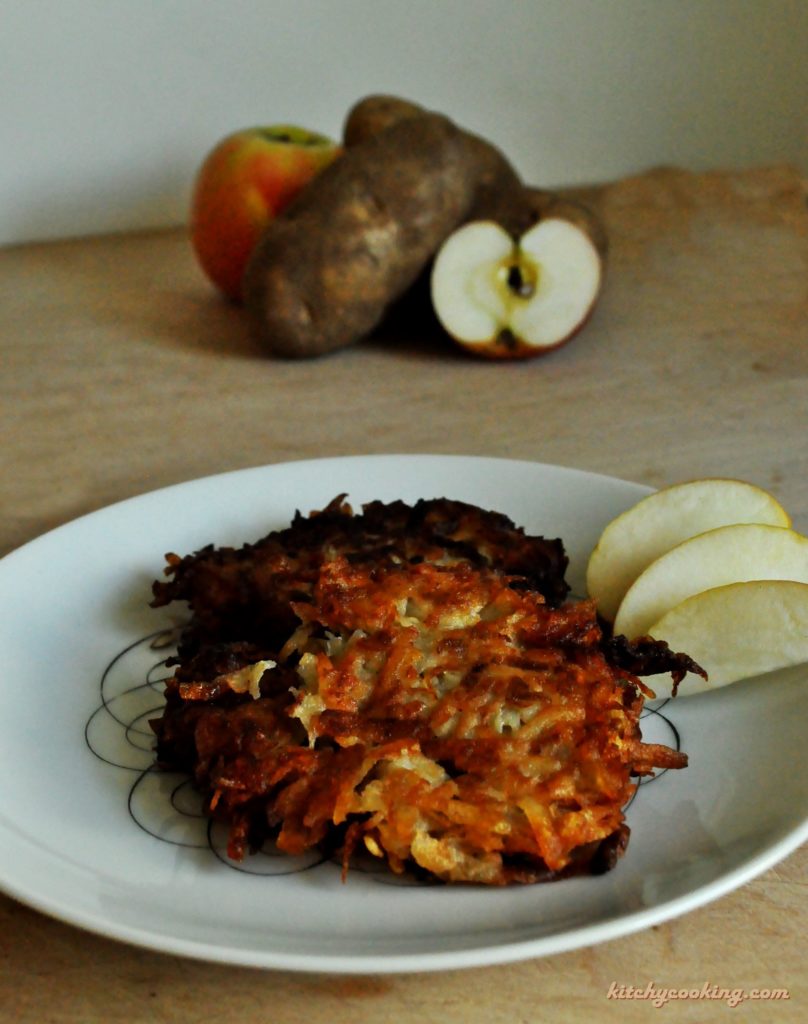 When I was a kid my mom always made your basic latke which was shredded potatoes, an egg, onions, a little flour and plenty of salt. They were so good I couldn't wait for Hanukkah every year because I knew no matter what the main course would be there would always be plenty of latkes. While Mom only made them once or twice over the eight days, they were always delicious and I couldn't wait to load up.
Now that I'm an adult with my own family I still keep the tradition of making latkes the first night of Hanukkah. I may even make them one or two more times over the eight day holiday. While I used to make Mom's recipe, I've started changing things up and making my own. See, the original is great, but as someone who loves to experiment in the kitchen I like to try new things or add new ingredients to classic recipes. Sure, sometimes it doesn't work out, but sometimes it's amazing. So in the past I've made latkes with green onions as well as sweet potatoes. They were both great, but this year I wanted to try something different. This year I wanted to go with apples.
I know adding apples may sound like a bizarre choice, but I see apples and potatoes together all the time. They're usually baked or roasted with a protein, but I thought since they pair so well with proteins, they'd be great mixed up together all by themselves, and I wasn't the only one who thought so. There are several potato pancake recipes with apples out there, but I was inspired by one I found in Food and Wine. The combination of the two flavors was delightful. Depending on the apples you use, you'll either get a latke that's tart or one that's sweet. Either way, it's a wonderful addition worthy of at least one night of Hanukkah if not all eight.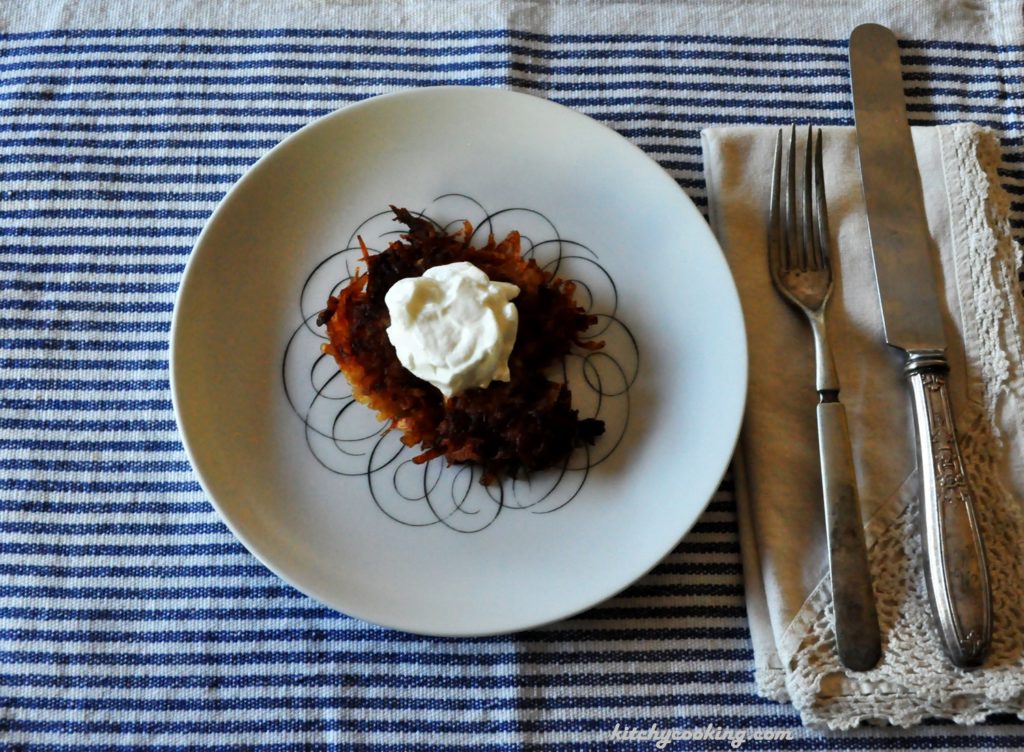 Ingredients
1 egg, lightly beaten
2 tablespoons flour
1 tablespoon kosher salt
4 - 5 potatoes, peeled and shredded
2 apples, peeled, cored and shredded
1 medium onion, shredded
Canola oil for frying
Instructions
In a large bowl whisk together the egg, flour and salt and set aside.
Place the shredded potatoes, apples and onion in a colander and squeeze out as much liquid as you can. Transfer to the bowl with the egg mixture, toss together until combined and let sit for about 10 minutes.
Heat the oil in a large skillet until shimmering. Add the potato mixture a tablespoon at a time and press down to make pancakes. Cook about 3 minutes. Flip and continue cooking for another 2 minutes until golden brown and cooked all the way through. Transfer to a plate lined with paper towel to drain.
Repeat with the remaining potato mixture. Serve immediately with your favorite apple sauce or sour cream
http://www.kitchycooking.com/2017/12/apple-potato-latkes/