Hot Cranberry Rum Punch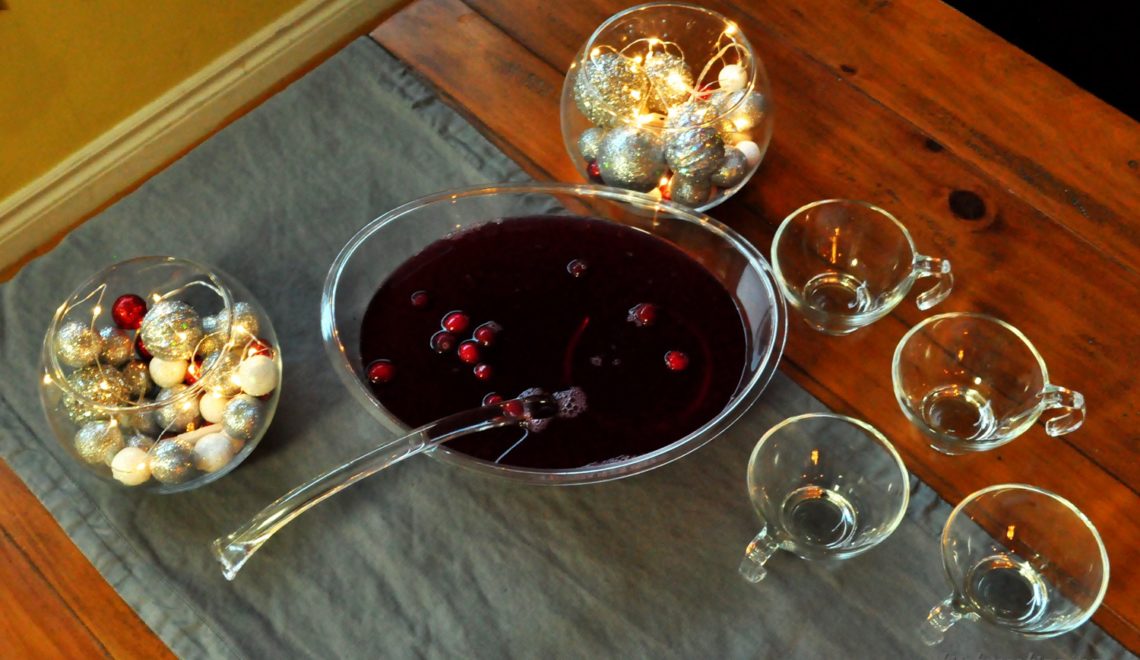 Two things happen when the leaves change. I rotate my liquors from light to dark and I start thinking about the holidays. See, the holidays mean it's time to pull out all the stops. It's time to pop that champagne and whip up a punch or two because odds are you're going to have a few guests at some point during this holiday season and you want to be ready. Sure, a martini or Manhattan are great, but there's just something about punches and champagne cocktails that make everything more festive.
I always have champagne on hand to make a champagne cocktail or Kir Royale, but I also always have at least one or two bottles of apple cider so I can dump it in a big pot, warm it up and make a yummy spiked spiced cider. It's one of my favorite drinks during the holidays because it's piping hot and tastes like winter in a glass. So, since I was gearing up for out annual holiday party I was just about to buy another bottle when I discovered a different kind of punch in this month's Better Homes and Gardens. Instead of your standard apple, this one was made with cranberry juice.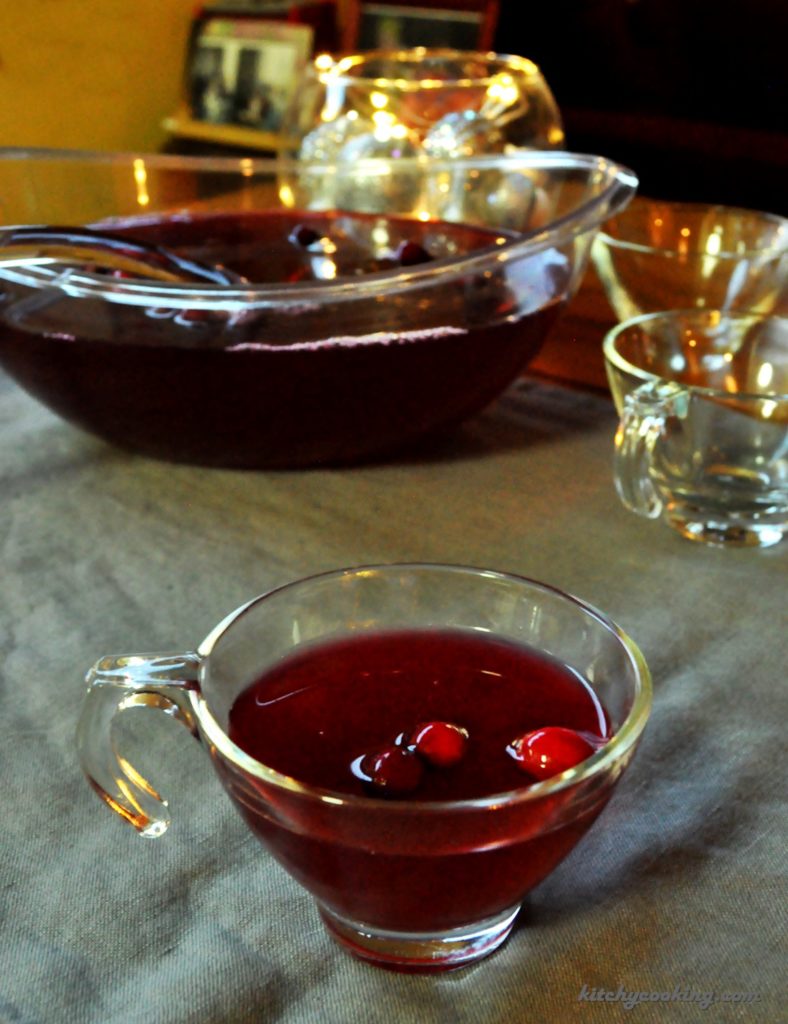 Cranberry vs. Apple
I love cranberry juice. I buy it year round to drink straight or mixed into some of my favorite classic cocktails. Because the cranberry is so tart, it adds that much needed sour taste used to round out a lot of classic cocktails. The cider on the other hand is much sweeter and so lends itself to those hot drinks because you don't really need to add anything except the liquor.  So, while I've mixed both juices into a variety of bevies, I've never, ever had hot cranberry juice. I mean, who has hot cranberry juice? Certainly not me. But being the amateur mixologist that I am, I was intrigued, and I like to try new things, especially when they involve recipes that date all the way back to WWII. So, I read the ingredients for this vintage punch and realized it was very similar to that spiked spiced cider I love so much. I mean, there's cinnamon and cloves, even a little lemon juice. I know it sounds odd but since I love cranberry juice I figured I'd give it a shot.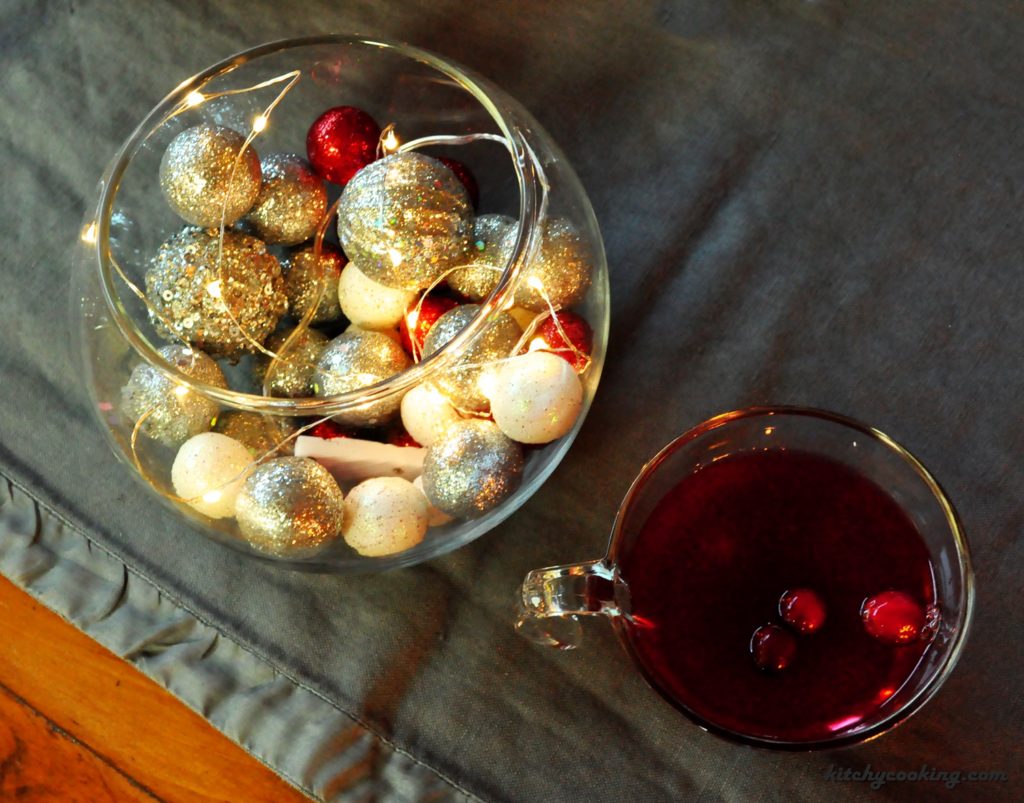 History
As I said, I found this recipe in this month's Better Homes. Why was a recipe from the 40's in a magazine from 2017? Well, Better Homes decided to look back over all their old magazines and re-print several of their classic recipes from the 30's to today. There was a Golden Wassail from the 60's, ginger-spiced cookies from 1938 and a modern day champagne punch. But the hot cranberry punch was the most intriguing to me because it was a hot cider.
The drink was delicious! It's very similar to that spiked spiced cider because of the cinnamon sticks and cloves, but it's more tart because of the cranberries. Even though it's a little more sour, all those spices along with the spiced rum make this cocktail just as warm and cozy as the more commonplace cider, and one well worth a taste this holiday season.
Ingredients
12 cups water
8 cups fresh or frozen cranberries
2/3 cup sugar
4 cinnamon sticks
20 whole cloves
2 black tea bags (like Earl Grey)
juice and zest of 1 lemon
1 teaspoon orange zest
1-1/2 cups spiced rum
Instructions
Bring water to boil over high heat in a large pot. Add the cranberries and boil for 3 - 4 minutes or until the skins start to burst.
Pour the cranberry mixture through a fine sieve into another pot, pressing lightly on the cranberries to extract all the juices. Discard the remaining solids.
Add the sugar, cinnamon sticks and cloves to the cranberry juice and bring back to a boil, stirring the whole time to dissolved the sugar. Reduce the heat to low and simmer, uncovered, for 5 minutes.
Remove from the heat. Add the tea bags, lemon juice and zests and let stand for at least 3 minutes. Discard the tea bags.
Stir in the rum and transfer to a punch bowl. Garnish with cranberries and serve immediately.
http://www.kitchycooking.com/2017/12/cranberry-rum-punch/